Junior National Team update: U17 Team announcement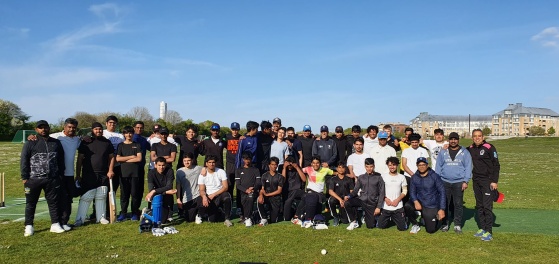 In continuation to the junior national team identification and preparation process keeping in mind the 2022 ICC sub regional qualifier in August 2022, the U17 trials for the national team were held in Malmö on 7 and 8 May 2022.

The probables participated in the trials, conducted by youth coach Rajan Sharma along with the regional assistant coaches. The players were assessed on the 4 pillars of performance, fitness, fielding, batting and bowling.

The following individuals have been identified as the U17 National Squad for Sweden.
The squad consists of 18 players. (14 + 4 reserve players.)

Yatharth Chauhan
Mashal Khan
Sebastian Luczak
Sanuk Keppetiyawa
Kavin Meenakshisundaram
Anish Pimpalkhare
Sharim Afzal
Madhav Erat
Trineth Rahul Madhan Prabhu
Fawad Shirzad
Ali Haider
Hasan Nijamudin
Chandresh Rewal
Advait Guhagarkar

Reserve Players
Kirtan Sai
Reshad Nazari
Isa khan Sharifi
Lucas Woodgate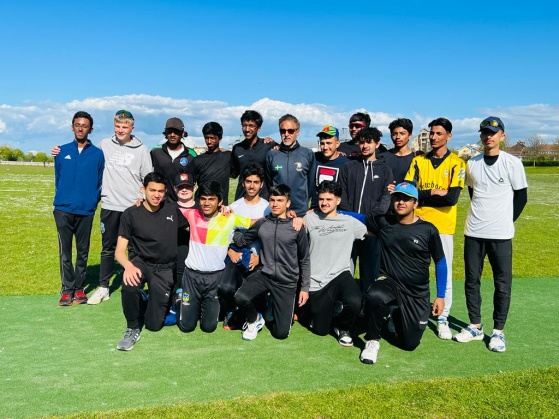 Dam T20i Series bekräftad: May 26-29, Kolsva Sverige
Tillsammans med Guttsta Wicket Cricket Club kommer Cricket Sweden att stå värd för en T20i-turnering mot Danmark, Norge och Sverige* från 26 maj-29 maj på Guttsta Wicket Cricket Park. Denna turneringen ska bli en fantastisk internationell dammatch och vi hoppas få se lite kvalitetscricket uppvisas under seriens gång. *Ett sista lag kan bekräftas under de kommande dagarna.

Together with Guttsta Wicket Cricket Club, Cricket Sweden will host a T20i tournament against Denmark, Norway and Sweden* from May 26-May 29 at Guttsta Wicket Cricket Park.
This tournament will be a fantastic women's international clash and we hope to see some quality cricket displayed over the course of the series.
*One final team potentially confirming over the next days.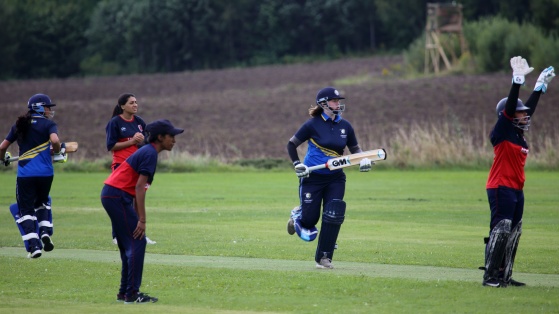 Junior Landslag förloppsuppdatering
Efter tillkännagivandet av 33-personers u17-ungdomslag i juli 2021 har förberedelserna fortsatt för truppen.
Nationella ungdomstränaren Rajan Sharma har utsett ett team av regionala assisterande tränare som har arbetat noggrant med spelarna i deras regioner. Vi tackar de regionala assisterande tränarna för deras fortsatta insatser med de unga spelarna.

De regionala assisterande tränarna är:

Stockholm (norr)
1. Parag Dhabe
2. Vasanth Chakravarthy
Göteborg: (väst)
1. Sundar Shankarlingam
2. Vikram Pimpalkhare
Skåne: (söder)
1. Madhan Prabu
2. Madhav Rao


Med 2022 ICCs subregionala kval på horisonten i augusti i år, håller det regionala tränarteamet och huvudtränaren Rajan Sharma på att förbereda spelare över de "four pillars" för prestation för att ge spelarna den bästa chansen till en framgångsrik turné.
Utvecklingsområden har inkluderat:
Fitness, fielding, batting och bowling.

Crescendo för den regionala träningsramen kommer att vara en 50 over triangulär serie som hålls i Malmö den 7 och 8 maj och kommer har med alla spelare i det nuvarande ramverket. Syftet med den serien är att framträda inför förbundstränaren för slutgiltigt val av turnerande lag.

Turnéns första stopp är Holland för en serie på 20 och 50 över matcher mot Tyskland, Holland och Danmark. Följt av ICCs subregionala kval som spelades i Geurnsey i augusti

Eng:
After the announcement of the 33 person youth u17 development squad in July of 2021, preparations have continued for the squad of young cricketers.
National youth coach Rajan Sharma has appointed a team of regional assistant coaches who have been working meticulously with the players in their regions. We thank the regional assist coaches for their continued efforts with the young players.

The regional assistant coaches are:

Stockholm (north)
1. Parag Dhabe
2. Vasanth Chakravarthy
Göteborg: (west)
1. Sundar Shankarlingam
2. Vikram Pimpalkhare
Skåne: (south)
1. Madhan Prabu
2. Madhav Rao


With the 2022 ICC sub regional qualifyer on the horizon in August of this year, the regional coaching team and head coach Rajan Sharma are busily preparing players across the 4 pillars of performance to enable them the best chance for a successful tour as a unit.
Areas of development have included:
Fitness, fielding, batting and bowling.

The crescendo of the regional training framework will be a 50 over triangular series held in Malmö on may 7th and 8th and will feature all of the players in the current framework. The purpose of the triangular series being to appear before the national coach for final selection of the touring team.

First stop of the tour is Holland for a series of 20 and 50 over matches against Germany, Holland, and Denmark. Followed by the ICC sub regional qualifyer played in Geurnsey in August

Junior Landslag 50 över turneringen bekräftad i Nederländerna
Junior landlsag bekräftar deltagande i 50 över turnering 18 juli - 22 juli mot Tyskland, Nederlanderna och Denmark. Tävlingen kommer att hållas i Schiedam, Nederlanderna.
Senior Landslag T20i tri serien i Juni
Sverige bekräftar deltagande i T20i tri-serien mot Tyskland och Österrike 9-12 juni. Tävlingen kommer att hållas i Krefeld, Tyskland.
2022 Landslag fitness nomineringsgränser
Gunjan selected to represent Sweden in Fairbreak international tournament!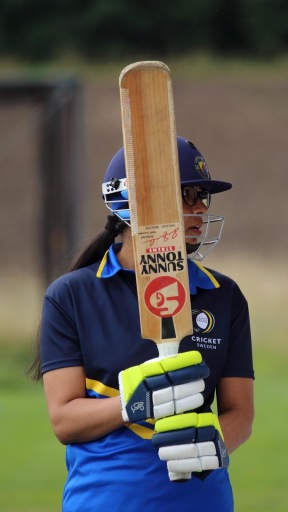 Thanks to the hard work of Womens Head Coach David Williman and the cricket talent of Swedish Womens captain Gunjan Shuckla we have a first for Swedish cricket.

After a long selection process, Gunjan, has been selected to take part in the Fairbreak International Cricket tournament to be held in Hong Kong in early May 2022.

Gunjan will be playing along side international women superstars such as Sophie Devine , New Zealand Captain , Indian stars Harmanpreet Kaur and Deepti Patel , West Indian powerhouse all rounder Deandre Dottin and Pakistan stars Sana Mir and Diana Baig. In fact every top level test playing nation is represented at the tournament. Sweden and Germany were the only low level tier countries t have a player accepted.

Gunjan will also have the pleasure of working with some of the best women cricket coaches in the world such as Charlotte Edwards, Lydia Greenway and Julia Price.

This is a fantastic opportunity for Gunjan and Swedish womens cricket and we wish her all the very best in the tournament. Sweden is right behind you , make us proud.

See all the latest news by following #fairbreak on Instagram.
Herrarnas landsagstester i Stockholm 14/1-2022
På grund av ökad smittspridning kommer vi flytta fram herrarnas landslagstester som skulle ha genomförts 14/1-2022. Alla deltagarna kommer att informeras samt vi återkommer med nya datum vid ett senare tillfälle.
Sverige avslutar T10 European
Championships turnering i Spanien
Sverige med kanon dag 4 i Spanien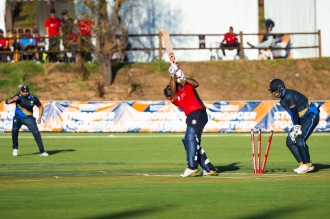 Sverige fixat dag 4 med ett spännande avslut mot Belgien. Imal Zuwak slög 61 poäng not out och 5 x 6's i en över!!! Ofattbart
Scorecard och match replay här
Azam Khalil med bra insats i Spanien
Team Preview Cricket Sweden T10 lag inför European Cricket Championships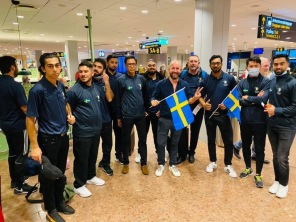 Presentation av Cricket Sweden T10 lag som spelar European Cricket Championships i Spanien i September.
Kapt Abhijit Venkatesh
Läs mer här
Fighting Freyjas vann över Norge 3-0!

Historisk T20i Damlandskamp mot Norge
T10 Men National Squad 2021
This tournament will be held in Spain and we will contest GROUP A.
The T10 format requires a slightly different skill set to T20 which is why there is a different squad selected for this tournament.
Congratulations to all the players and I am looking forward to working with all of you.

/Jonty Rhodes 2021-07-22

ABHIJIT VENKATESH CAPTAIN (GÖTEBORG CC)
KHALID AHMAD ZAHID (NACKA CC)
AZAM KHALIL (ALBY ZALMI CC)
CHOUDRY SHARE ALI (MÄRSTA CC)
HASSAN MAHMOOD (SIK IF)
HUMAYUN KABIR JYOTI (STOCKHOLM TIGERS CC)
IMAL ZUWAK (HUDDINGE CC)
ISMAEEL ZIA (ALBY CC)
OKTAI GHOLAMI (LUND CC)
QUDRATULLAH MIR AFZAL (ALBY CC)
SAMI KHALIL (ALBY ZALMI)
SAMIULLAH RAHMANI (HUDDINGE CC)
ZABIULLAH ZAHID (NACKA CC)
T20 Mens National Squad 2021
We made it clear from the beginning of this national pathway journey that we wanted to make selection for the national team open to all eligible players here in Sweden. In addition, we stressed that performance, fitness, commitment and attitude would form the foundation of our selection criteria.
In our selection of the Team Sweden T20 squad, we have looked to balance the squad with specific skill sets, fearless youngsters and experienced players.
I would like to thank the High Performance team for their valuable input which has allowed me to announce the 14 man Team Sweden T20 National squad that will travel to Denmark for 3 T20i matches against our hosts. The same 14squad will travel to Finland for 4 T20i matches from 20-23 August.

I am really looking forward to working with these players.

/Jonty Rhodes 2021-07-22

ABHIJIT VENKATESH CAPTAIN (GÖTEBORG CC)
WYNAND BOSHOFF V CAPTAIN (DJURGÅRDEN IF)
BAZ AYUBI (ARIANA CC)
DIPANJAN DEY (INDISKA CC)
HASSAN MAHMOOD (SIK IF)
HUMAYUN KABIR JYOTI (STOCKHOLM TIGERS CC)
IMAL ZUWAK (HUDDINGE CC)
KHALID AHMAD ZAHID (NACKA CC)
LEMAR MOMAND (NACKA CC)
LIAM KARLSSON (DJURGÅRDEN IF)
OKTAI GHOLAMI (LUND CC)
RAHEL KHAN (ALBY ZALMY CC)
RAHUL GOWTHAMAN (GÖTEBORG CC)
SAMI KHALIL (ALBY ZALMI)
Presentation av brutto trupp u17 pojkar
There was big turnout in every region, which is very encouraging for the future of Swedish Cricket.
So just remember, the door is not closed for those not selected.

We are looking forward to having many different programs for them, which will assist them to become better cricketers, on and off the field.

1. Anish Pimpalkhare
2. Madhav Erat
3. Ali Haider
4. Joel Kota
5. Yatharth Chauhan
6. Kartike Shankar
7. Jamal Numan
8. Kevin Meenakshisundaram
9. Hasan Nijaamudin
10.Sebastian Luczak
11.Advait Guhagarkar
12.Parth Chougule
13.Trineth Rahul Madhan Prabhu
14.Swastik Devata
15.Chandresh Rewal
16.Fawad Shirzad
17.Isa khan Sharifi
18.Anirudh Tiwari
19. Sharim afzal
20. Haroon Nizami
21.Ashutosh Samal
22. Sahil shirzad
23. Shirzad Shaikh Mohammed
24.Sarvesh Aravind
25.Aarav jain
26. Mohammed Abdulah
27. Sanuk keppetiyawa
28. Romman
29.Saqil
30. Tanveer
31. Kirtan Sai
32. Mashal khan Khalil
33.Irfan
A message from our national coach Jonty Rhodes
The recent announcement of a list of players that I have requested to come back for a 2nd round of trials, for our upcoming tours to Denmark, Finland and Spain has caused quite a stir in the Swedish Cricket community. Every selection process that I have endured both as a player and a coach, will make for a squad of happy individuals and countless others who are deeply disappointed. And yet, this is how it should be, as playing for the Swedish National team should mean a great deal to you.
I have stressed from the start, and the clubs were aware of my focus, that fitness levels were going to be an important role in determining a player's commitment to playing cricket for Sweden. As a coach, this willingness to get out and do the hard work, is often THE differentiator when you have a few players of similar standards, and you are looking for a little something extra, that will contribute to the team's success. I understand that these players are amateurs, and they have work and family commitments, but when you play for Sweden, you are playing international cricket, and we need to respect that, above all else. Yes, some players are missing out who have decent skills and wonderful averages, but we not picking a team based on the last few years' performance, or recent results at club level. Our initial list that was compiled, was a combination of these averages, along with my request to the other HP members to indicate which players had a particular skillset that I felt we needed for the correct balance of our side. We can't have 10 hard hitting batters, or 10 allrounders in a side. Once we have identified players with the specific skill sets required, we believe that can build a team, that everyone in Sweden can be proud of, and every young player can aspire to. This is my goal, and as often reiterated to the players, I am here to relocate with my family, and not merely pop in for a tournament. I know that I can contribute to the cricketing landscape here in Sweden, in many different capacities, and just like you, I wish to see cricket grow from strength to strength.

What I have seen so far is that cricketers in Sweden, on and off the field, are very passionate about the game. This, however is true, in all the Nordic countries, and across most of Europe, where cricket is played, by people who are just as passionate. A great deal of time and resources are being invested by other countries into growing the game, at all levels. And so, if we want to be competitive in Europe, and the leading team in the Nordics, there are some areas of the game that we can be better than our competitors, such as fitness and fielding.
I have seen the difference this focus has made on my own career with the South African team in 1992, and more recently, the Indian team under the captaincy of Virat Kohli. While South Africa and India might seem like poles apart from Cricket in Sweden, I was commentating at an ICC Qualifier tournament in Ireland in 2015, and the best fielding team at the tournament were Afghanistan. This was before Rashid was such a force in world cricket, and as a team, they had employed a friend of mine as a fielding coach, as they realized that just to qualify for the ICC World Cup was not enough, they also wanted to be competitive on that bigger stage.
So yes, your cricket skills are probably excellent.
You can bowl a decent line and length.
You believe you are good in the field!
Your past club stats are impressive, and even your national teams scores from 3 years ago should put you on top of the list, in any team, on paper.
We want to establish a new culture in Sweden, where we play hard, and work hard together, to make the game better, for the whole cricketing community.
So, the next step is up to you. When I was dropped from the SA test team from 1996-1998, I needed to work on 1 small technical adjustment to my back lift. I was always a hard worker, not naturally gifted, and so spent many hours on implementing this small change, and then had to score a large amount of runs over the next year at my province, for the selectors to finally include me back in the Test team. That year of my return, I was nominated as 1 of 5 Wisden cricketers of the year in 1999.
You can use the disappointment of not being selected to motivate yourself, to become even fitter, and a better all round cricket player, or you can be bitter, and blame everyone else for this perceived injustice.
We need every talented individual in the Swedish cricketing community so I really hope that your decision is to adopt the former attitude, because this is not the end, but just the beginning of exciting era of international cricket experience for the Swedish National Cricket team.
Yours in cricket
Jonty Rhodes
Swedish National Cricket Coach
Välkomna våra Regional Squad Managers JPL
Fre 22 jan
Efter en grundlig process med intervjuer av många starka kandidater så har Sportchef Benn Harradine utsett 11 regionala lag-coacher (RSM) som kommer att ansvara för de 4 regionala UPL-lagen. De 4 UPL lagen ska spela turnering sommaren 2021, under förutsättning att restriktionerna kring COVID-19 tas bort.
Lagen är:
Stockholm Lavin
Stockholm Fors
Västra Götaland Blixt
Skåne Storm

Coacherna kommer att få stöd av vår personal som arbetar med landslagsutveckling och de kommer ha ansvar för uttagning, rekrytering, utveckling, coaching och ledning av de 4 regionala lagen. De här UPL lagen kommer vara en del på vägen till vårt juniorlandslag.
Följande personer är RSM:

Stockholm Lavin:
Andy Babington
Wynand Boshoff
Faruk Ahmed

Stockholm Fors:
Lalindra Hettiarachchi
Jason Frosh
Naveen Chintakindi
Västra Götaland Blixt
Muhammad Ismail
Sundar Sankaralingham

Skåne Storm
Nikhil Mathur
Rohit Saproo
Ben Tew
En presentation av alla RSM lag kommer att genomföras under kvartal 1 och varje RSM team kommer informera klubbarna och spelarna gällande hur anmälan till provspel skall göras.
Låt oss tillsammans gratulera våra RSM och vi ser fram emot 2021 där vi växer tillsammans!
In english
Regional Squad Managers(RSM) for UPL
After a thorough interview process of many strong candidates, Sportchef Benn Harradine has appointed 11 regional squad managers (RSM) who will lead the UPL teams in 4 regions.
At present we have four UPL teams who will play a tournament in the summer of 2021 (COVID PERMITITING)
The UPL teams are:
Stockholm Lavin
Stockholm Fors
Västra Götaland Blixt
Skåne Storm

The RSM will be mentored by our national high performance staff and will be responsible for trialing, recruiting, developing, coaching and managing the 4 regional squads. These UPL teams will be a step on the pathway to our junior national team.
The regional squad managers are as follows:

Stockholm Lavin:
Andy Babington
Wynand Boshoff
Faruk Ahmed
Stockholm Fors:
Lalindra Hettiarachchi
Jason Frosh
Naveen Chintakindi
Västragötaland Blixt
Muhammad Ismail
Sundar Sankaralingham
Skåne Storm
Nikhil Mathur
Rohit Saproo
Ben Tew
A presentation and profile of all RSM Teams will be presented during Q1 and each RSM Team will provide information to clubs and players with information surrounding registrations for trails.
Please join me in congratulating our RSM and we look forward to a 2021 where we THRIVE!
Benn Harradine, Sportchef SCF
Läs vidare här!
Uttagningsprocess för uttagning till landslag
Tor 17 sep
Här kan du läsa tydlig uttagnings process till alla landslag i Svensk cricket.
Uttagning till landslaget finns nu uppdaterad i dokumentbanken!

English
Process of selection for all Swedish national teams is now revised
and available in the document section of the homepage!
Lyckad Damträff i Kolsva!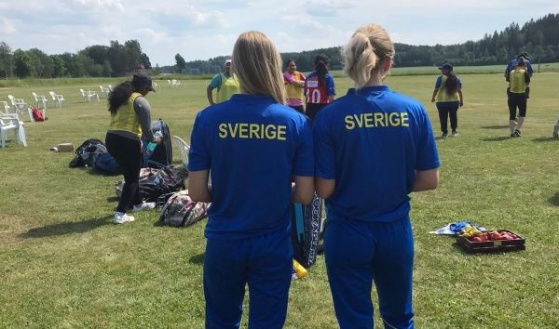 Tor 1 jul
fter månader av väntan på grund av rådande situation med Covid-19 fick i helgen 16 stycken förväntansfulla tjejer äntligen samlas för att delta på damlandslagslägret i Kolsva där Guttsta WCC stod som värd.
Tjejerna, som representerandes av fem olika klubbar runt om i Sverige (Guttsta WCC, Djurgården CC, Alby Zalmi CC, Göteborg CC och Malmöhus CC) var villiga att delta under helgen för att visa upp hur de ligger till teknikmässigt och fysiskt men även hur de klarar av att samarbeta och läsa spel med tjejer de annars inte är vana att träna med. Med hjälp av coacherna David och Rajan har tjejerna givits möjligheten att utveckla sina svagheter så som styrkor inom cricket. Tjejerna delades in i två lag som under lördagen mötte varandra i två stycken T10-matcher för att sedan göra upp i en T20-final under söndagen.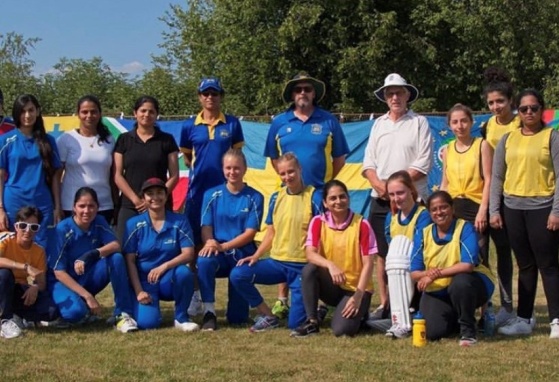 Neeha Kayani ifrån Djurgårdens cricketförening är en av tjejerna som deltog under helgen.
"- Den här Corona-situationen har ju oroat många och jag är jätteglad över att vi äntligen lyckades få till en träff där så många som 16 tjejer ändå lyckades delta. Helgen har varit över förväntan och vi har fått otroligt mycket hjälp att undvika kollektivtrafik och stora grupperingar. Tack vare ett väl genomtänkt arrangemang kände vi oss väldigt säkra och omhändertagna gällande allt ifrån boende och mat till träning.
Alla vi tjejer uppskattar det här otroligt mycket då det är en viktig erfarenhet, inte bara för de nya tjejerna utan även för de som spelat cricket under en längre tid.
Det har gett oss alla en chans att förstå och uppleva cricket lite mer.
Känslan av att befinna sig på en multikulturell plats där allt och alla räknas som en är en fantastisk känsla.
Det är event som detta som får en att våga steppa upp och lämna sin "comfort zone" - man utvecklas inte bara inom cricket utan även som person!
Ett speciellt tack till Benn (SCF) som tillsammans med Guttsta WCC såg till att detta blev möjligt att utföra. Även ett stort tack till David och Rajan som vill lägga ner sin tid på att hjälpa och stötta oss tjejer i våran satsning. Jag hoppas att det här kan vara en början på att fler tjejer får upp ögonen för den här fantastiska sporten."
Nu återstår att välja ut ett antal spelare för att representera Sverige och se till att svensk damcricket sätts på karta
Damlandslag Camp i Kolsva
Tor 11 jun
Vårt damlandslagsprogram återupptas äntligen efter den påtvingade
Covid19-pausen 27-28 juni med en Squad Camp i Kolsva.
En trupp på 22 flickor har bjudits in till helgen för att spela 3 tävlingsmateriel.Klubbarna representerade i helgen är Djurgarden IF, Alby CC, Guttsta CC, Malmohus CC och Goteborg CC.
Våra tränare ser verkligen fram emot att få möjlighet att arbeta med denna grupp mycket entusiastiska och engagerade spelare.
Sveriges damlandslag vinner i Norge
Tor 20 feb
De svenska damarna återvände hem i triumf på söndag kväll med den nordiska inomhuscupen i deras grepp.
Detta var den första tävlingen som damerna hade spelat tillsammans för att representera Sverige och de gjorde inte besviken. Kapten och kvinnor i serien Gunjan Shukla var enastående och visade stort ledarskap och var den bästa bolwer turneringen. Det blev också en exceptionell prestation med fladdermössen från Ritu Srivastava, vår ledande körscorer i turneringen, vars mest minnesvärda ögonblick var att slå en rak 6 i gruppstegen.
Trots att detta var deras första gång på den internationella scenen utvecklade Damerna snabbt en fantastisk lagandesamhet och samhörighet och det vädjar bra för framtiden. Vi vill tacka norsk cricket för att ha lagt en fantastisk helg för damkricket.
Ett nationellt program har avtalats för 2020-21 för våra damer och uppmuntrar alla klubbar att komma bakom våra damer och utveckla möjligheter för dem i alla våra klubbar.

English:
The Sweden ladies returned home in triumph on Sunday evening with the Nordic indoor Cup in their grasp.
This was the first competition the girls had played together representing Sweden and they did not disappoint. Captain and women of the series Gunjan Shukla was outstanding showing great leadership and being the top wicket taker in the tournament. There was also an exceptional performance with the bat from Ritu Srivastava our leading run scorer in the tournament, whose most memorable moment was hitting a straight 6 in the group stages.
Despite this being their first time on the international stage the girls quickly developed a fantastic team spirit and togetherness and it bodes well for the future. We want to extend our thanks to Norwegian cricket for putting on a fabulous weekend for ladies cricket.
A national programme has been agreed for 2020-21 for our ladies and encourage all clubs to get behind our ladies and developing opportunities for them in all our clubs
Svenska damlandslaget till Norge

Fre 14 feb
Det är fantastiskt att svensk cricket nu kan presentera att vi har ett svenskt landslag för damer. Laget ska representera Sverige i Oslo, Norge den 15:onde februari i en inomhusturnering. Vi har haft samtal med de nordiska länderna om att starta upp en Nordic Cup för damer. Det är en långsiktig plan vi har tillsammans med Norge, Finland och Danmark. Vårt första möte är i Oslo, Norge där Sverige ställer upp med ett landslag för första gången. Det är en fantastisk resa vi har påbörjat berättar Carolina Håkanson, Generalsekreterare.
Norge kommer ställa upp med två klubblag. Finland kommer med några tjejer som bildar ett Nordiskt lag tillsammans med tjejer från Sverige och Norge. Sverige kommer ha ett rent landslag samt tre tjejer som kommer ingå i det Nordiska laget.
Det är fantastiskt att vi kan samarbeta med att utveckla cricket för tjejer. Vi har kommit olika långt i våra länder med att öka antalet tjejer som vill spela cricket. I Sverige har vi under 2019 sett ett enormt intresse från tjejer i de klubbar som verkligen har satsat på att ha en verksamhet för damer. Fler klubbar har startat verksamhet och vi på förbundet har sett att det finns ett underlag till att nu starta upp ett landslag för damer. Vi hoppas att det kommer att stimulera fler tjejer till att satsa på cricket samt att fler klubbar inser att det är en fantastisk tillgång för klubben att inkludera in tjejer/damer.
David Williman och Rajan Sharma är svenska damlandslagets coacher och säger:
The Sweden ladies team start their 2020 programme in Norway on 15th February in an indoor Tournament in Oslo. Several Coaching camps were held in 2019 and from this 21 girls were nominated to attend fitness and technical coaching at Bosön just before Christmas.
A squad of 12 has been selected to travel to Oslo and a further fitness and technical camp will be held for the larger squad of 21 on 14 March also at Bosön.
This is an exciting new venture for Swedish cricket and one fully supported by ICC as they seek to expand participation in cricket to everyone. Over the course of 2020 we will establish a squad of lady players who will train, develop and compete for Sweden on the international stage.
We hope that this development and support of a female National team and squad will inspire young ladies and girls to take up cricket and be our next stars of the future. We ask you to do everything you can to encourage female participation at your club in 2020. The ladies selected for Oslo on 15th-16th February are;

| | |
| --- | --- |
| Gunjan Shukla | Stockholms Akademiska Cricket Sällskap |
| Areeba Khan | Alby Zalmi Cricket Club |
| Daisy Holm | Malmöhus Cricket Club |
| Kathryn Badarin | Stockholms Akademiska Cricket Sällskap |
| Pinja Ruuhinen | Stockholms Akademiska Cricket Sällskap |
| Poonam Sharma | Göteborg Cricket Klubb |
| Meghana Alugunoolla | Stockholms Akademiska Cricket Sällskap |
| Monali Pande-Thakre | Stockholms Akademiska Cricket Sällskap |
| Neeha Kayani | Stockholms Akademiska Cricket Sällskap |
| Rashmi Shekhar | Göteborg Cricket Klubb |
| Ritu Srivastava | Malmöhus Cricket Club |
| Shubhangi Chauhan | Göteborg Cricket Klubb |